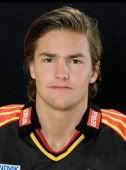 Photo courtesy of brynas.se

Position: Defenseman
Shoots: Left
Height: 6.0″
Weight: 198
Birthdate: April 19, 1991
Age: 20
Hometown: Karlskoga, Sweden
Acquired: 2009 3rd round pick – 87th overall
"Bertilsson has good size and a decent shot and adds good puck movement and distribution skills to a strong skating base to create a very dynamic package for a defender. He is calm with the puck and often makes strong intelligent decisions." – International Scouting Service
Simon Bertilsson spent most of the 2008-2009 season split between Brynas IF's J20 junior team and their senior roster. The normally defensive minded defender finished with 31 points (9 goals, 22 assists) in his 30 regular season games with Brynas' J20 squad. Bertilsson and his J20 teammates also went on to become the J20 SuperElit champions that year. He registered 1 point in the six game tournament. In 21 games with the senior roster in the Elitserien he finished with one assist. He played in four playoff games with the senior roster, but was held pointless. This season also saw him playing 19 games internationally with Team Sweden. He tallied 4 goals and six assists playing with the national team. His busy season earned him a ranking as the 17th best skater in Europe by the National Hockey League's Central Scouting Bureau. The Flyers went on to draft him with the 87th pick of the 2009 entry draft.
Bertilsson became a full time member of Brynas IF's senior roster for the 2009-2010 season. In 31 games, he registered 1 goal and 3 assists. He played in five more games in the playoffs where he was held pointless. Plagued with injury, Bertilsson was forced to miss the entire World Junior Championship tournament. He only saw 3 games of action with Team Sweden in international play.
Injury once again plagued Bertilsson in the 2010-2011 season. He only played in 36 of their 55 regular season games. His offensive game remained limited with only two assists in his 36 games. He was also held pointless in four playoff games. Bertilsson finally got his chance to play for Team Sweden at the World Junior tournament in his last year of eligibility. He played six games and finished with an assist. He played a total of 19 games internationally with Sweden. Bertilsson chose to sign a two year extension with Brynas at the end of the season and may choose to remain in Sweden.