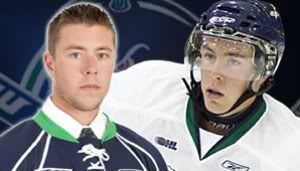 Photo courtesy of plymouthwhalers.com
Position: Left Wing
Shoots: Left
Height: 6.2″
Weight: 180
Birthdate: February 7, 1990
Age: 21
Hometown: Wasaga Beach, Ontario
Acquired: Signed as free agent (3-02-11)
Tyler Brown's OHL career began when the Plymouth Whalers drafted him in the 11th round of the 2007 OHL Priority Selection. Brown's debut for the Whalers was an eventful one. The rookie recorded a goal and 5 assists in 38 games. As a result, Brown was passed over at the 2008 NHL entry draft.
Brown's sophomore season was an improvement for him as he proved he had a modest amount of offensive skill in his game. He finished with 21 points (8 g, 3 a) in 49 games. He also ended up with 3 points in 11 games in the playoffs.
The 2009-2010 season was another year of improvements for Brown as he continued bested his previous season's numbers. He hit double digit goals for the first time with 14. He also set a career high in assists with 25 in 66 games. He added 3 more points to his total in 9 playoff games. Brown also made himself known for his excellent penalty killing and defensive play along with his speed.
Brown returned to the Whalers in 2010-2011 for his overage season. Brown was expcected to take on a bigger role with the depature of star forward of Tyler Seguin. Brown did exactly that. Once again he set career highs in goals (25), assists (32), and points (57). Brown also continued his excellent defensive play and penalty killing. He was one of the league's best shorthanded scorers, finishing with 4 shorthanded goals. As a result, he was named the Westeren Conference's best penalty killer in the OHL Coaches' Poll. Brown took his game to another level in the playoffs. He finished with 3 goals and 11 assists in playoff games to lead the Whalers in playoff scoring. He was named the Whalers playoff MVP at their annual awards banquet.