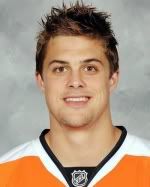 Position: Center
Shoots: Left
Height: 6'0″
Weight: 194 lbs
Birthdate: April 26, 1989
Age: 22
Hometown: Burketon, Ontario
Acquired: Signed as free agent on March 4, 2010.
2005-2006
Pither's Major Junior Hockey career begins with the Kingston Frontenacs of the OHL. It was a disappointing season for the former 4th overall pick from the OHL Priority Selection Draft. He ended the year with 13 points (4 g, 9 a) in 68 games. He also registered an assist in 6 playoff games that season.
2006-2007
Kingston decided to cut their ties and traded Pither to the Guelph Storm 5 games into the new season. Pither slowly began to come into his own as a player in the Storm organization. He had a modest improvement his first year with the team. He improved his point totals to 28 in 52 games. He reached double digits in goals (15) and assists (13) for the first time. Despite his improvements, it wasn't enough to get noticed by the scouting community as Pither went undrafted during his first year of draft eligibility.
2007-2008
Pither continued to grow with the Storm. His goal totals dropped slightly to 13, but he more than doubled his assists to 29. He point totals increased by fourteen points to 42 in 51 games. He also added two more assists in 10 playoff games. .
2008-2009
The Guelph Storm traded Pither to the Belleville Bulls mid-season when they decided he didn't fit their defensive first system. His production with the Storm also had slipped from .82 points per game to .73 points per game. The move away from the defensive oriented Storm proved to be huge for the young forward as he exploded offensively with the Bulls. He scored closed to a 2.00 point per game pace. He collected 19 goals and 23 assists in 23 games with the Bulls. His performance carried into the playoffs as he helped the team reach the Eastern Conference Championship. He finished 2nd on the Bulls in playoff scoring with 19 points (6 g, 13 a) in 17 games.
2009-2010
Pither returned to the OHL for his overage season. He also found himself with another organization as Belleville traded him in the offseason to the Barrie Colts. The trade did not slow him down as he went on to dominate in his final season in the OHL. He set career highs in goals (36), assists (58) and points points (94). He lead the Colts in scoring and finished 3rd in OHL scoring behind Taylor Hall and Tyler Seguin. He also set some career marks in the playoffs with highs in goals (9) and points (20) in 17 games. He led the team to the Eastern Conference Championship, but they lost in the Finals to the eventual Memorial Cup Champions. As a result of his tremendous season, the Philadelphia Flyers signed Pither to an entry level contract in March of 2010.
2010-2011
Pither's professional career began with the Adirondack Phantoms. He struggled to regain the scoring touch he found in juniors, finishing with a mere 20 points (9 g, 11 a) in 67 games with the Phantoms.