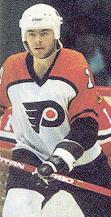 Former Philadelphia Flyers defenseman and long-time NHL blueliner Brad McCrimmon has died in a plane crash in Western Russia on Wednesday morning.
The plane, carrying members of the Yaroslavl Lokomotiv club of the Kontinental Hockey League on its way for a game in Minsk, Belarus, crashed just after takeoff, killing all passengers. Only one crew member survived the ordeal, and a player who survived the crash reportedly later died of his wounds in hospital.
McCrimmon had signed on as the club's head coach in May following a successful three-year stint as an assistant with the Detroit Red Wings.
"I'm personally saddened to hear of the tragic death of one of our former players, Brad McCrimmon, and his team. Brad was one of the toughest defensemen to ever wear the orange and black," said Flyers chairman Ed Snider in a statement issued Wednesday afternoon. "He gained the nickname 'the beast' for his tenacity on the blue line and his ability to shut down our opponents. Off the ice, Brad was a true gentleman. He was a kind, caring and wonderful human being. My thoughts and prayers go out to his family, as well as the families of those who lost their lives in this tragedy."
The 52-year-old McCrimmon enjoyed a five-year stint in Philadelphia from 1982-87. In the latter three seasons, he formed a potent defensive combination with Hall of Famer Mark Howe. Nicknamed "The Beast" by legendary broadcaster Gene Hart, the Saskatchewan native recorded 35 goals an 187 points in 367 regular-season games, adding seven goals and 13 points over 46 playoff appearances. His plus-minus was a staggering +223, including a +83 in 1985-86.
Said Howe via text  to NHL.com correspondent Bill Meltzer: "Brad was one of my 3 closest friends. A man of his word. Best partner I ever had on the ice, but a better friend…husband and father off the ice. A sad day for the hockey world. My prayers go out to his family."
McCrimmon played 18 seasons in the NHL from 1979-97 with Boston, Philly, Calgary, Detroit, Hartford and Phoenix, winning a Stanley Cup in 1989 with the Flames. He finished with 81 goals and 403 points during 1,222 games.
Among the former NHL players who perished when the plane struck the Volga River in the village of Tunoshina were Pavol Demitra, Josef Vasicek, Karol Rachunek, Ruslan Salei, Alexander Karpovtsev, Igor Korolev and Karlis Skrastins.
McCrimmon is the fourth player from the Mike Keenan era to pass away tragically. Pelle Lindbergh suffered fatal injuries in a one-car crash on November 10, 1985, Miroslav "Cookie" Dvorak died in 2008 at age 56 from throat cancer, and Peter Zezel was taken thanks to a rare blood disorder in May of 2009 at age 44.