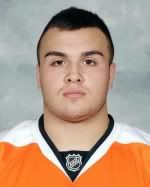 Position: Right Wing
Shoots: Left
Height: 5'11″
Weight: 180 lbs
Birthdate: June 15, 1990
Age: 21
Hometown: Hamilton, Ontario
Acquired: 6th round, 178th overall, of the 2008 entry draft
"He's absolutely fearless. The other team always knows when he's on the ice, or at least they better be aware, because he will quickly announce himself. Zac plays with a great deal of pride and emotion. He's a gritty player who wears his heart on his sleeve, and who will do anything to help us win. But he knows and understands the game, too, and he's developing into a very solid overall player for us." - Dave Cameron, Rinaldo's coach in Mississauga.
2006-2007:
Rinaldo's 16 year old season was spent in the OPJHL, a Tier II junior hockey league. He finished eighth in team scoring with 32 points (16G, 16A) in 44 games with the Hamilton Red Wings. He also lead the team with 193 penalty minutes. Rinaldo eventually received a call up to the St. Michael's Majors in the OHL, but was held pointless in 6 games.
2007-2008:
Rinaldo earned a full time spot in the OHL with the Majors. He was used in a agitating role on their checking line. He was very effective in his role as he once again lead his team in penalty minutes with 191. He also dropped the gloves 16 times that season. His offensive output was modest with 7 goals and 7 assists in 63 games.
2008-2009:
Rinaldo's role began to increase in his second season with the majors. He responded well to the increase in playing time. He nearly matched his previous season's totals in about half as many games. Despite the improvement, he found himself traded to the London Knights mid-season where he really took off. He tallied 17 points (4G, 13A) in 22 games with the Knights to increase his overall season totals to 10 goals and 20 assists in in 56 games between the Majors and Knights. He also fought 16 more times that season and led the OHL in penalty minutes with 201.
2009-2010:
The final season of his junior career was once again split between two teams as the London Knights traded him to the Barrie Colts as the deadline. He finished with 10 goals and 25 points in 60 games between the two organizations. He fought 13 times that season, but finished with a career high of 255 penalty minutes which once again was the most in the OHL.
2010-2011:
Rinaldo's reputation as an agitator grew during his first professional season with the Adirondack Phantoms. He fought 26 times in 60 games and racked up 331 penalty minutes. He didn't add much offensively, tallying 3 goals and 6 assists in his 60 games, but ended up playing two games with the Flyers in the playoffs because of his toughness.