The cliche pops up every time a serious injury occurs in any college or professional game — that these unfortunate events serve as stunning reminders that sports is ultimately about the players and not the actual passion in competition.
Nonetheless, you could tell the air was sucked out of the Wells Fargo Center and time seemed to stand still with just over eight minutes to play in the first period of a 4-2 Flyers victory over the Toronto Maple Leafs on Monday night.
That's when Flyers captain Chris Pronger suffered a potentially serious right eye injury when struck full-on by Mikhail Grabovski's stick. Pronger immediately clutched his face with gloves flying, as Grabovski's face contorted in horror and remorse.
Needless to say, Pronger left the game and didn't return. General manager Paul Holmgren stated after the game that the veteran blue-liner will be on bed rest for 3 days and miss up to 3 weeks.
He also added one piece of crucial information — that upon Pronger's return, he will be required to wear a visor.
But before any and all sides of the mandatory-visor debate could be cooked up, Jaromir Jagr tallied his first two Philadelphia goals and Scott Hartnell netted his first two goals of the year.
That badly-needed burst of offense from a pair of maligned forwards backed a 24-save performance from Sergei Bobrovsky as the Orange and Black snapped a two-game home losing skid.
Phil Kessel and David Steckel lit the lamp for the Leafs. Jonas Gustavsson was pressed into service due to an injury to starter James Reimer, and took the loss after giving up all four scores on 30 shots.
Toronto was already up 1-0, thanks to Kessel's league-best ninth goal of the year when disaster struck.
Pronger was attempting to smother a chance from the right circle by Grabovski, when the visiting winger's stick caught him flush in the face near his right eye.
The manner in which Pronger reacted called to mind Bryan Berard's horrific eye injury back in 2000 when Ottawa's Marian Hossa's follow-through caught the 1997 Calder Trophy winner flush in the eye, causing it to essentially explode on contact.
But the Flyers managed to maintain focus and knotted the game on a beauty of a breakaway chance from Jagr, who slipped away from a Toronto checker, froze Gustavsson, and scored to the far side to forge a 1-1 deadlock after one period.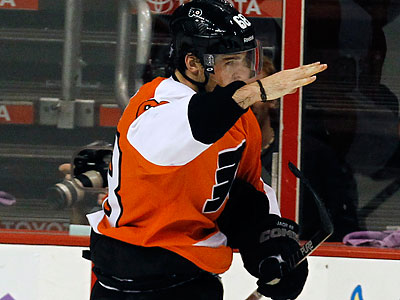 Enter Hartnell, who like Jagr, failed to register a goal in the season's first seven games. That was put to rest at the 15:46 mark of the second when he did what he's supposed to do — sniff around the net and slam in loose pucks – and put Philly up 2-1 by sweeping in a Danny Briere rebound.
Claude Giroux then added his second helper of the night when he backhanded a puck into the left circle for a spinning top-shelf one-timer by Hartnell 8:34 into the third which provided a tw0-goal cushion.
Though Steckel managed to fight off the rebound of a Matt Frattin shot and muscle it legally over the goal line three minutes later, Jagr put to rest any chance of a comeback.
This time, from a Hartnell lead pass, the 39-year-old Czech raced in alone up the middle and beat Gustavsson with the same shot in the same location with 4:45 left in regulation.
And once the game was over, thoughts turned to the 18-year veteran, who had never before worn a face shield. Flashing before some of our eyes were the career-ending eye injuries suffered by Barry Ashbee and Bernie Parent, along with Ian Laperriere's twin misfortunes two seasons back.
Notes: Jagr notched his 114th career multi-goal effort, by far the most among active player. His first score tonight was his first since April 6, 2008 when he played for the New York Rangers…Hartnell recorded his 200th and 201st points as a Flyer…Briere also picked up his 600th career point…Brothers Luke and Brayden Schenn squared off against each other for the first time in the regular season…The Flyers travel to Bell Centre in Montreal on Wednesday.