It began with a whimper, but how will it end?
That's the question I find myself asking, as the second anniversary of Peter Laviolette's hiring passes. We're at the halfway point for the tenure of most NHL head coaches, so while there's no question Lavy's got some good things on his ledger, it's a given that going forward, we're simply going to experience the back end of his time in Philadelphia.
It was a big step for the organization to bring in the Massachusetts native, then just two days from his 45th birthday.
He was an American — only the second man of that distinction to sit behind the bench here after Paul Holmgren. He also had zero previous connection to the franchise before his hiring — something which hadn't happened since Terry Simpson was given the reins for his one and only season in 1993-94.
But Laviolette brought several things with him that previous hire John Stevens did not possess: An animated character, a track record of motivating his club, and most importantly a Stanley Cup title with Carolina in 2006.
Those characteristics took more than five months to show themselves, and boy did they ever. It was Game 7 of the 2010 Eastern Conference Semifinals in Boston. Despite valiantly rallying back from an 0-3 series deficit, the Flyers found themselves on the brink of disaster yet again, trailing 3-0 to the Bruins after less than one period. But the boss called them all to his side, and every player instinctively packed themselves in a tight semi-circle, the current shift pressed against the board while standing on the ice.
In a focused and firm manner, Laviolette's sermon, lasting less than 30 seconds, managed to turn the tide of an entire season. James van Riemsdyk, Scott Hartnell, Danny Briere and Simon Gagne all lit the lamp and the defense plus Michael Leighton held the fort, giving the Orange and Black a 4-3 victory and a huge chunk of NHL history as well as a berth in the Eastern Finals.
Thus, a folk hero was born…yet another on the glorious pile stretching back 45 years.
It was a long way up from the night of December 5, 2009. Stevens had been tossed aside, not even reassigned to another role within the organ-eye-zation, with the Flyers treading water at 13-11-1, but having experienced the third of what would become five straight losses in a string of eight defeats in nine outings.
Despite the creeping onset of injuries which ended up plaguing the club through its magical playoff run in the following Spring, the move was made in part due to a sense of complacency and somnolence which had been harped on in the local media. Stevens got support from the locker room and the front office but from few other places beyond the arena; day-after stories made a point of revealing how quiet the room was and how zombified the team played.
It was a replay of the situation nine years earlier under Craig Ramsay, who was only able to get the Flyers to tread water early in the 2000 season without Eric Lindros and John LeClair. Ramsay's taciturn personality was having an adverse effect on the team's play, and out he went in favor of fiery Calder Cup winner and franchise icon Bill Barber.
But while Barber's tenure got off to a rousing start — Philly went undefeated in their first eight under Barber (5-0-3) — Laviolette's first night here was something worse than baptism by fire.
Washington came in hot, winners of four straight games and holding the third-best record in the NHL at 17-5-6 on December 5, 2009. The Caps also boasted the highest goals-per-game average in the conference, with 100 goals in just 28 games. It was the perfect storm.
It was 3-1 after one, 7-1 after two. Ray Emery, the big free-agent goaltending acquisition/reclamation product was chased from the contest after five goals on 17 shots. He'd miss most of the remainder of the season after a bothersome hip issue flared up and eventually required surgery. Mika Pyorala was one of the two goal scorers in an 8-2 defeat which left the sellout crowd howling for blood.
But despite the furnace going full blast in his face as losses, injuries and wildly inconsistent play continued to plague his charges, Laviolette remained resolute. Who else but a Cup winner could get that much leeway?
It's a tribute to his Yankee roots. New Englanders are famed for being stubborn, opinionated but hard-working and constant. That attitude becomes more ingrained as one grows older, and harder to penetrate. His manner and style was the right fit at the right time.
Through a million little printed controversies, the weirdness that marked the Richards-Pronger dynamic, the creation of Dry Island, the gutting of a roster this Summer and the ever-present hunger of the fan base, he's managed to come out landing on his feet.
But those same salty yet resolute ways may be about to get him in more hot water than a Maine lobster on a cottage stove…and fairly soon. The signs have been there all along.
On a night to night basis, he doesn't really have much to say. Forget about actual insight or his plethora of emotion that has been seen behind the bench and reported to exist behind closed doors, Laviolette is a man of very few public and private words. That's not good when your owner holds dear public opinion regarding the team's play — and who's the public face but someone who'd give Calvin Coolidge a run for his money on economy of language.
It's not a clear obstruction, like in the case of Andy Reid's press conferences, but it's a hindrance in that perception can stop and turn on a dime when things start to go downhill — the same man who stands fast in the face of adversity with a stoic face can be written as one who refuses to reveal how he could alter his plan to make things right.
Handling the goaltenders in last year's first-round series against Buffalo is a prime example. Being the first team since the 1988 Detroit Red Wings to win a series by using three different starting goaltenders isn't the sort of record the Flyers can be proud of. Despite the fact that this was the hand Laviolette was dealt through no fault of his own, and above all he was not responsible for each of the three's performance, the situation was compounded by more substitutions than Mike Keenan could ever pull off. Plus, he was clearly annoyed at the (rightful) nightly questions requiring explanation of the merry-go-round and appeared at times exasperated and condescending.
And even though the Flyers came out with a hard-fought seven-game victory, Laviolette took a lot of heat, and rightly so, for his public handling of the ordeal. That stands in stark contrast to his Teflon skin apparently grown some time during the Bruins series, where all was forgiven and fingers were pointed at the players quitting on their coach.
Also, how much longer can he get by simply with good timing? Calling a timeout at certain points in a game can only get you so far in the regular season and playoffs — especially if it's the only go-to move when the team fails to put together that "60-minute effort" which has proved elusive with uneven play.
Since that magical pause in Boston, he's had to go to the well so many times since then with mixed results because whoever's on the ice ends up lapsing back into bad habits. He's now on his third different roster and the recipe just isn't going to work as well as it did that One Brief Shining Moment.
This is no different than any other career arc of any other coach in the NHL. The same personality traits which set one man apart from another that were so refreshing at first always become a hindrance in the end. The stronger the attitude, the harder the fall. Just ask John Tortorella, Ken Hitchcock, Bruce Boudreau, Keenan and a host of others who have felt the axe before.
It seems very disappointing to think of it this way, but we're about to witness the first day of the countdown on the rest of Laviolette's Flyers coaching tenure.
That doesn't diminish what he's accomplished in a relatively short time in Philadelphia: proving that you don't have to be Canadian, or a former player with the franchise, or work your way up through the organization from the Trenton to the Phantoms and up to the big club in stages in order to carve out your own niche.
What also may stave off the Turk for a while longer is the way this new and constantly-changing lineup has responded to Laviolette's prodding.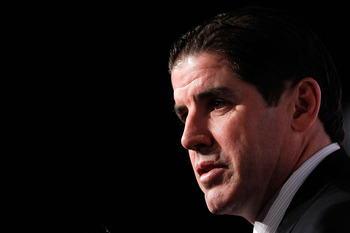 Did anyone realistically think they'd be competing for a top-4 spot in the East, or be on pace with the loaded Penguins for the Atlantic Division, or hint at loads of untapped potential despite the injury situation at 15-7-3?
Not with the almost weekly changes that would make the most seasoned baseball skipper scratch his head, you didn't.
Nonetheless, the sands in the hourglass are just about even up. It's Laviolette's call on how he'll make the most of however long he's in control. It's a shame that  it'll have to end but the promise of a smooth transition is on the horizon.