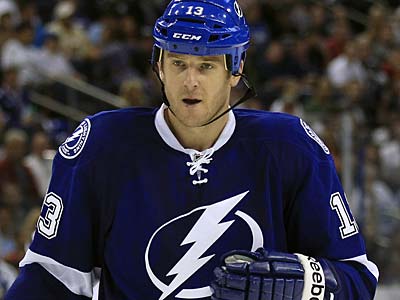 The Philadelphia Flyers didn't wait very long after a 6-4 home loss to the Pittsburgh Penguins to spin the dealer's wheel, acquiring defenseman Pavel Kubina from the Tampa Bay Lighting.
Departing the organization are minor-league forward Jon Kalinski, a conditional second-round pick (acquired from Florida in the Kris Versteeg deal) plus a fourth-rounder in 2013.
The 34-year-old Kubina provides a much-needed, right-handed shot from the point and will be an imposing presence at 6-foot-4 and almost 250 pounds. He totaled three goals and 11 points with 59 penalty minutes in 52 games thus far for the Bolts. Over his career, which began in Tampa back in 1997, the Czech rearguard has racked up 110 goals, 382 points and 1,108 penalty minutes over 953 regular-season appearances for the Lightning, Maple Leafs and Thrashers.
Kubina has a $3.85 million cap hit and is set to become an unrestricted free agent at the end of this season.
On Saturday night, Tim McManus reported that Phantom Jon Kalinski was a late scratch at Bridgeport and according to Frank Seravalli, Kalinski did not leave with the Phantoms tonight, but left with his equipment for another location. That came to fruition, as the deletion of the Alberta native from the organization brings the Flyers into compliance with the 50-contract limit.
Kalinski will report to Norfolk, the AHL affiliate of the Lightning. The 24-year-old skated in 22 games with the Flyers from 2008-10. He tallied nine times with 12 points in 40 games for Adirondack this year.