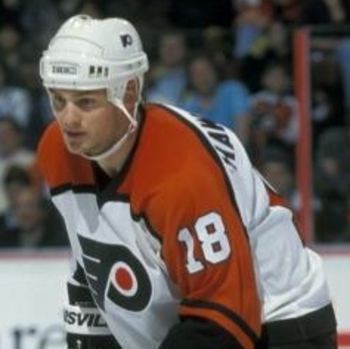 The continuation of a weekly series here at Flyers Faithful, "This Week in Flyers History" aims to provide historical information on Flyers games of the past with some kind of significance, using pictures and videos where appropriate.
February 19, 1980 Rockies 8, Flyers 6 — Rookie goaltender Pete Peeters finally loses a game, closing the books on an NHL record by failing to lose in 27 starts (22-0-5) as the Flyers are uncharacteristically blitzed by a Don Cherry-led Colorado club. Peeters was left in for the entire game, giving up seven goals on only 25 shots.
February 19, 1984 Flyers 3, Rangers 2 (OT) — Tim Kerr scores at 1:33 of overtime to give the Flyers a win at Madison Square Garden — the franchise's first road OT victory. Philly came into the league in 1967 but a five-minute extra session wasn't implemented until prior to the 1983-84 season.
February 19, 1992 — The Flyers, Penguins and Kings pull off a three-team non-interlocking deal for multiple players. Leaving Philly are Rick Tocchet, Ken Wregget and Kjell Samuelsson, all to the Steel City. Arriving from Pittsburgh is Mark Recchi and Brian Benning. Benning was a Pen for a brief moment, acquired with former Flyer Jeff Chychrun from the Kings in exchange for future Flyer Paul Coffey. The Flyers, near the bottom of the NHL in offense, receive an immediate boost up front while three long-time former Flyers go on to win a Stanley Cup with a new rival.
February 21, 1994 Flyers 8, Canadiens 7 — Patrick Roy has another in a series of nightmarish starts against the Orange and Black, allowing six goals on 18 shots in less than two periods. Eric Lindros and Brent Fedyk each score twice and the other third of the "Crazy Eights," Mark Recchi, gets a goal and two assists. This still stands as the highest-combined goal total between the clubs since their rivalry began in 1967.
February 22, 1980 Flyers 7, Canucks 3 — Remember that old chestnut about not being able to beat 'em on the ice but beating 'em in the alley? While the rest of America was celebrating the Miracle on Ice, the Flyers were trouncing Vancouver on the scoreboard and in the fights on this night at the Pacific Coliseum. A bit of the old Ultraviolence courtesy of the CBC:
February 22, 1993 Flyers 5, Red Wings 5 – The second miracle finish in less than a week for Bill Dineen's club sees Brent Fedyk score the tying goal with less than one second remaining in regulation. Fans of both teams had to make a trek for this one, as it was one of two league-mandated neutral-site contests on the schedule. This one took place in the now-demolished Richfield Coliseum outside of Cleveland.
February 23, 1981 Canucks 6, Flyers 4 — Just over a year later, another brawl broke out between the two teams in the same arena:
February 23, 1984 — Another ugly incident in an odd period in Flyers history unfolds. Before a 3-3 tie at the Spectrum with Minnesota, Paul Holmgren is deal to the North Stars for former Mount St. Charles standout and American Olympian Paul Guay. In a bizarre series of events, Holmgren is held out off the lineup prior to warm-ups but is not told why. He remains in the dark for two periods before leaving the rink to visit his then-girlfriend, where he hears news of the deal on the radio. Coach-GM Bob McCammon is forced to make a public apology about the way the situation was handled.
February 23, 1988 Flyers 11, Red Wings 6 — Yes, you read that right. Where to begin?…Ron Hextall started the game despite battling the flu and didn't last long before he was taken out for Mark LaForest. Hextall goes back in only to be yanked for good after Detroit rolls to a 5-1 lead in the second period. Philly scores 3 times in 90 seconds to get back into the game, but still trails 6-4 after two. Then, LaForest is forced to make a save on Shawn Burr's short-handed breakaway with the score 6-5 early in the third and the avalanche of karma comes falling the Flyers' way.
They score five times in a span of 5:29 — a still-standing franchise record. The seven goals in the third period stands as a record. The 11 goals on the road is still a club record.
February 24, 2001 Lightning 0, Flyers 0 — The first-ever scoreless tie between these two clubs occurs on a Saturday in Philadelphia. Shutout honors go to Roman Cechmanek (36 saves) and NHL Network correspondent Kevin Weekes (27 stops). The injury bug which took a huge bite out of the club late in the year showed up, as Simon Gagne was sidelined after this contest with a shoulder issue.
February 25, 1984 Whalers 9, Flyers 7 — Until the Tampa Bay game in November of 2010, the first period of this tilt at the Hartford Civic Center stood alone as a club record for most combined goals in the first period, after which the Whale emerged with a 5-4 lead. Mark Howe scored twice and Dave Brown picked up his first career score, but Pelle Lindbergh allowed eight goals on 36 shots and managed to make  Greg Millen, who gave up seven on 41, look good.
February 25, 1995 Flyers 7, Canadiens 0 — John LeClair's first trip back to Montreal following the trade two weeks earlier is an eventful one, as he rolls to a hat trick in a rout. Philly again chases Patrick Roy after he is punctured for all seven scores — five in the third period alone. It was the Flyers' first shutout at the Forum since November of 1974 and still stands as the largest margin of victory by the Orange and Black over the Habs on the road.