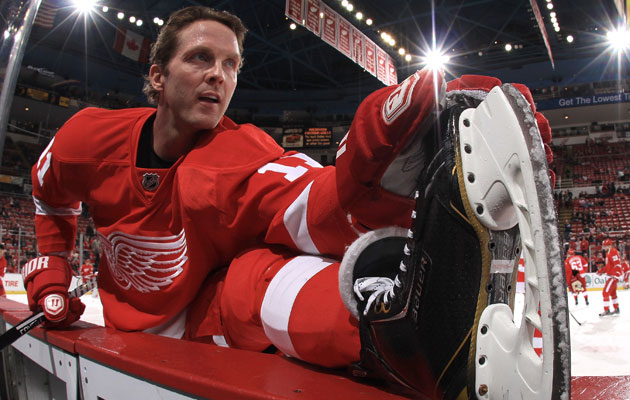 After days of speculation, the Flyers announced former Detroit Red Wing Daniel Cleary would be attending the Flyers' training camp, scheduled to begin tomorrow in Philadelphia. Cleary would be attending on a pro-tryout basis, and then signed to a 3 year, $8.75 million dollar deal once Chris Pronger was placed on long-term injury reserve.
However, today, Elliotte Friedman reported that Cleary will not be attending Flyers camp after all.
Not exactly sure why, but it appears as if there is some complication between Daniel Cleary and PHI. Told he will not be joining Flyers.

— Elliotte Friedman (@FriedgeHNIC) September 11, 2013
It's hard to speculate as to the reasoning why, after the Flyers confirmed it was happening, but perhaps Cleary has re-thought his decision to join the Flyers camp, or he has better offers from other teams awaiting him. More to come.
Update: According to Sam Carchidi of the Philadelphia Inquirer, Flyers General Manager Paul Holmgren informed him that Cleary is still scheduled to report to team camp on Thursday. And, as of Wednesday night, Cleary is expected to join the first group of forwards (8:30 AM) at the first day of training camp tomorrow.
Homer says Cleary still expected to report Thurs.

— Sam Carchidi (@BroadStBull) September 11, 2013
Homer on reports that Cleary won't report: "Until I hear it from the horse's mouth…." #Flyers

— Sam Carchidi (@BroadStBull) September 11, 2013
Update 2: Thursday morning rolled around, and Cleary did not report to Flyers camp. Helene St. James of the Detroit Free Press, who originally broke the news between Cleary and the Flyers reports today that Cleary is indeed re-signing with the Red Wings, as early as tonight, thus ending the Dan Cleary saga.
And here we go: Per Daniel Cleary "Flying to Traverse. I'm back. Signing tonight." #RedWings

— Helene St. James (@HeleneStJames) September 12, 2013
Cleary's first visit to the Wells Fargo Center is sure to be an interesting one.
This should create a battle between Tye McGinn, Michael Raffl and Scott Laughton for the empty spot on the depth chart.