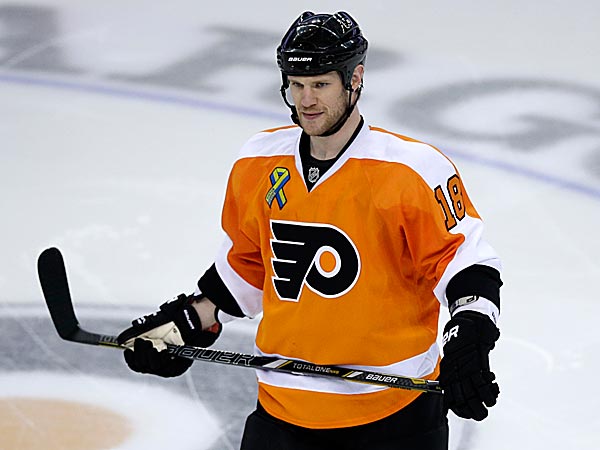 Photo courtesy of Philly.com
When fourth-line center Adam Hall engaged in two fights during last night's preseason finale vs. the Washington Capitals, we all assumed he was fighting for his job. A little less than 24 hours later, we were assured that was the case when the Flyers put him and defenseman Bruno Gervais on waivers.
The Hall move all but confirms that Scott Laughton will be sticking around with the team, but the Gervais move is a little more interesting. Adrian Dater, beat writer for the Colorado Avalanche said last night that there were rumblings of a trade in the works between the Avs and Flyers, and a defenseman was likely involved.
Hearing a little chatter about Avs and Flyers possibly talking about a swap for a D-man. Might happen, might not

— adater (@adater) September 28, 2013
Earlier today, those rumors began to take shape as sources say the Flyers are looking to deal defenseman Andrej Meszaros, possibly for Avs center John Mitchell. That would explain why Hall was waived as opposed to winger Jay Rosehill. Another rumor that was being bounced around was that the Flyers were indeed looking to sign tryout Hal Gill to a contract to be the team's seventh defenseman.
Whether these rumored moves eventually happen is anyone's guess, but the team seems to finally be taking shape now.